Welcome to Desertknight Mastiffs! We are located in Mesa, Arizona at the base of the Superstition Mountains. Our love for the English Mastiff started back in 1996. We show in Conformation and hope to someday get into Agility or Obedience as well. We are not a large kennel, we only breed occasionally. We believe in Quality not Quantity. We only keep as many dogs as we can comfortably live with in our home. The are part of the family and treated as such. Stick around and view all fur kids.

present National Specialty!
We had a blast at this years specialty. We met alot of new people and had fun participating in the events. Here are some of the highlights.
We place in every event we entered at our first specialty that we competed at. We are thrilled to say the least.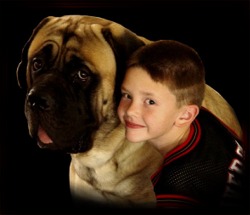 What's New?
We are very proud, Farley received
ALL his Championship points from the
Bred by Class!
Farley has been invited to the
Eukanuba National Championships
in Tampa Florida in January 2006!